Marketing On A Budget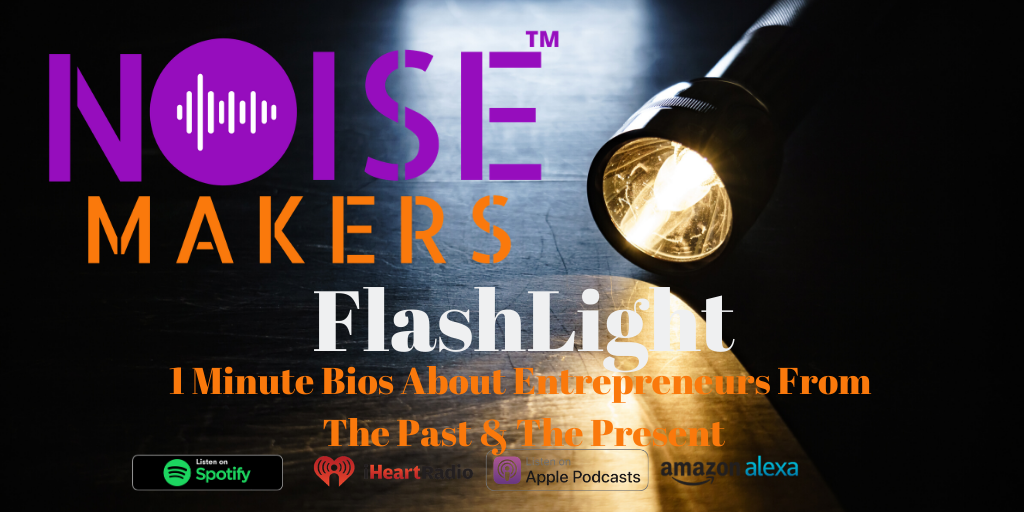 The NoiseMaker FlashLight is a very unique service that is now in beta. We will tell your story in 3 minutes. Yes we will do a 3 minute bio about your business or your book. You'll be able to level up exposure to your business by marketing your business on a budget. Think about the possibility for all of the exposure you could get at very affordable cost to market your book or your business.
What's So Unique?
Now what makes this service so unique is that we take this story and turn it in to a podcast episode that will be syndicated across the Noise Media Network. The network includes Apple Podcast, Google Podcast, iHeart Radio, Spotify, Amazon Alexa & Amazon Fire TV just to name a few. Your bio episode will also be syndicated on the NoiseMaker FlashLight as an Amazon flash briefing which is where we got the name FlashLight. A flash briefing is a short piece of audio that anyone with an Alexa device or app can listen to on the go. A Flash Briefing can be as long as 10 minutes, but most are 1 minute. We have decided to make our FlashLight briefings 3 minutes.
This probably sounds to good to be true, but I assure you that Amazon can be leveraged for more than just shopping. I know because I'm an author and I sell all of my books, there. I am also a podcaster and I already have an Alexa skill where you can hear my podcast daily. All you have to do is say Alexa open Good Morning Gwinnett and the latest episode of my show will play. This is called Voice Marketing.
Voice Marketing is where marketing is going next. I know every year there is some new marketing hack that comes out, but when you think about how we are using our phones we are already participating in voice marketing. We don't pay it much attention when we ask for directions or ask our phones what's the weather for the day. The reason that we don't is because we are in consumer mode. If you stop for a second to think of how powerful these platforms could be for you as business owner, your mind will be blown. What's even more exciting is that you can be marketing your business on a budget potentially reaching millions of people.
Voice Marketing and AI is why Noise Media is so excited to be launching this beta program. We understand that people are using their phones for voice searches more and more each day. We want to be on the front end of this marketing revolution. Pretty soon people will be ordering pizza from the Alexa or Google device that is sitting on the nightstand next to their bed. Voice search is simple and easy to do if you have the proper technology. Let's face it, almost everyone on the planet has a cell phone. Over 150 million people have some kind of smart speaker or smart device that understands when a command is given for a task.
Voice Marketing cannot be ignored and we don't plan on ignoring it. We over here at Noise will embrace this powerful technology, but best of all we will show you how to embrace it as well. For those looking for a way to leverage marketing their business on a budget, being a part of this beta program is a great way to kick it off.
How Can You Get Started?
We are in beta right now and we are offering this service at just $197 one time. We are only accepting 100 people into our beta program. All you have to do is purchase the service and send us a 350 word bio. There are no revisions, so make sure that you put what you want us to say in the bio. THERE ARE NO REVISIONS. Once your episode is ready to air you will receive an email and a graphic to help promote the episode. The goal is to leverage Amazon Flash Briefings by being on the cutting edge with our marketing and you can be a part of that.
Before You Get Started Consider These Steps
Remember you only have 350 words to get your message across, so make sure that you include the following in your 350 words
Your name
The name of your business
Why you started the business (TELL YOUR STORY)
What service you offer
How to reach you.
Now we know that 350 words is not a lot, but you have to be very precise in your messaging, but not boring. You want to make sure that the listener will get a good idea about who your are. Tell your story. Don't try to sell anything. If you are having a problem doing this I suggest that you go over to Fiverr and find a copywriter to help you craft a 350 word story. Remember there will be NO REVISIONS.
Be One Of Our 100 Beta Testers For Only $197 One Time!
We have a more comprehensive program called the NoiseMaker Spotlight which comes with so much more, but for those just starting out you can participate in our NoiseMaker FlashLight beta program. You can do this if you are one of the lucky 100. This beta program allows you to take advantage of marketing your business on a budget and still get great exposure