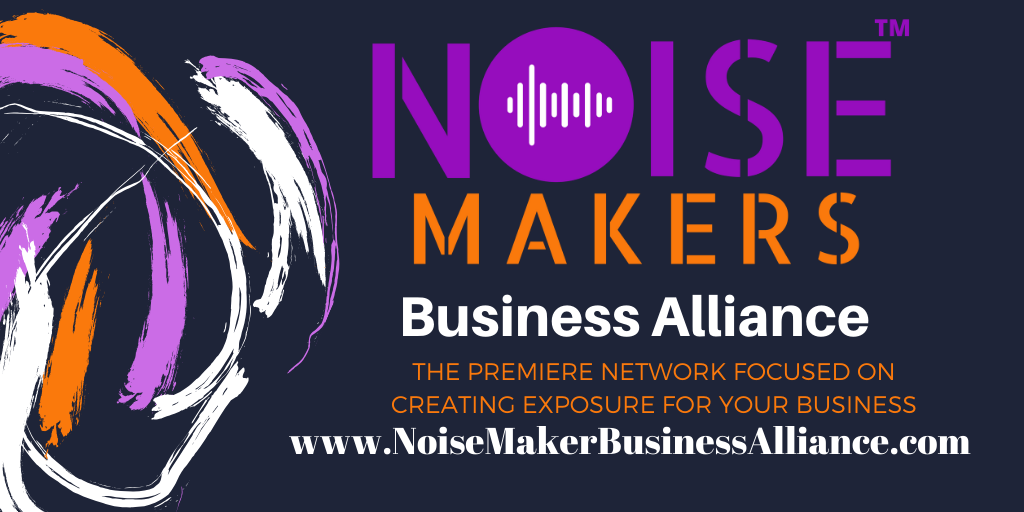 Welcome To The Noise Maker Business Alliance. We are a new kind of networking association focused on creating real exposure for your business. Our goal is to help the busy entrepreneur put their exposure on autopilot by providing them with outlets to be seen.
What Are The Benefits For Becoming A Member Of NBA
You get a video interview that will go on Noise TV which will launch on Roku and Amazon Fire TV .
Your interview will also be included on the NoiseMakers podcast
You will get 1 written profile in NoiseMaker Magazine which is printed monthly distributed at all of the NoiseMaker events as well as to subscribers
Your business name and website address will be included in each issue of NoiseMaker magazine directory
A link to your website will be listed in The Noise Report which is our weekly online newsletter which is distributed via email
Free Access To Some Of Our Local Events (TBA)
Access to the Noisemaker membership site
Access to our monthly membership call
Access to our online webinars
You will receive a 35% discount to our premier workshops
You will receive a 35% discount on Noise Media services
How To Become A Member Of NBA
We have two options available for you to become a member. You can be a Gold Member or you can become an Annual Gold Member. By becoming an annual member you will receive 2 months free.
Your Investment To Be A Member Of NBA Is Only $97 A Month
Profile In NoiseMaker Magazine
Profile On Noise TV On Roku & Amazon Fire TV
Profile On The NoiseMaker Podcast
Access To NoiseMaker Membership Site
Link In The NoiseMaker Magazine Business Directory
Link In The Noise Report Weekly Online Newsletter
Monthly Make Some Noise MeetUp
35% Discount On NoiseMaker Services

35% Discount On Other NoiseMaker Events
One Press Release Issued Annually To Your Local Media (U.S. Only)
Access To On-Demand Library Of Webinars
Opportunity To Present & Take Centerstage At One Of The NoiseMaker Events Or Monthly Calls
Members Are Eligible To Be Nominated For The Noise Awards