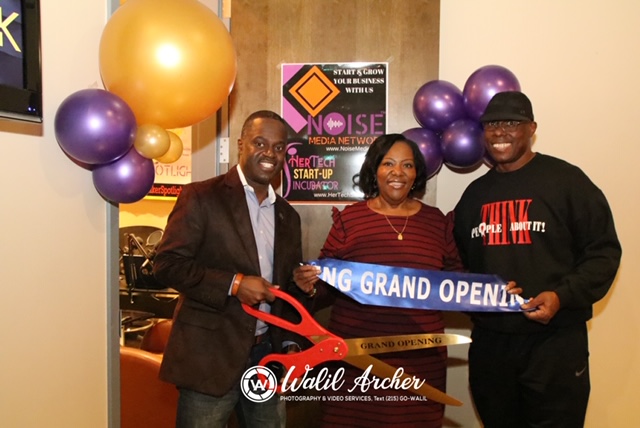 It's official. Noise Media Network is open for business. The ribbon cutting ceremony was yesterday to officially launch Noise. Noise is a media & marketing company located inside Paradigm Work Hub in Dacula, Georgia. We also have our podcast studio affectionately called The Noise Factory which is where Good Morning is now broadcasting live Monday-Thursday. I will also be launching 3 more podcast this year that will be produced out of Noise.
​
Our focus at Noise is to help small business owners market their business by leveraging our media assets which includes the following:
Noise Podcast Network
NoiseMaker Magazine
The Noise Report Weekly E-zine
Noise TV Network
We know how important it is for small business owners to create exposure for their business, that is why we have all of these amazing platforms and services to assist them with putting their business out front for potential clients to see them.
Our services are for the busy entrepreneur or the entrepreneur who knows their stuff as an expert, but not exactly sure how to market their expertise to their potential clients.
We're also excited about being able to produce podcasts for those who have something to say and have decided to say it via their own podcast. Our podcast studio The Noise Factory has state of the art microphones that can host up to 4 podcasters at one time. Podcasting is a growing industry and this is a great time to launch out in the deep and get started. This is also a great way for businesses to expand their brand.
Last but not least we have the NoiseMaker Business Alliance which is our marketing community. We created this community to provide a place for small business owners to not only connect with others, but to also put marketing on autopilot for the members, so that they can focus on the business and we will focus on the marketing for them.
So as you can see we have a lot going on to help business owners to move their business to the next level. Marketing is really important to every business and we understand some of the issues that small business owners my face and we're hoping to help them overcome those hurdles. For more information about Noise go to www.NoiseMedia.us.
Until Next Time
Make It A Great Day!
Audrey